#MinCamp with the Minimalist Parents
The lovely Christine Koh and Asha Dornfest of Parent Hacks wrote a book together. If these two women and their sites are any indication of the awesomeness that the book could possess, then I'm in. In fact I bet on it, and pre-ordered the book from Amazon. It's called MINIMALIST PARENTING: Enjoy Modern Family Life More by Doing Less.
In the run up to the book launch they are having a companion workshop. It's called MinCamp. I signed up. Why not right? I could use all the help I can get.
Through a series of 14 daily tasks, you'll make real progress in the areas many of us find challenging: managing your time, handling clutter (in your home, schedule, and mind), simplifying mealtime, and making room for self-care. Starting the day after you sign up, we'll email you one MinCamp task per day. We've crafted each task to make an immediate impact on your life while being doable. At the end of MinCamp, you'll be on your way to less clutter and more joy!
In a week I have already:
Decided which things, ideas, and ways of just being are important for me, and my family, to spend time and energy on.
Cleaned off my desk. (Holy hell it's been a mess for months!)
Said YES to a dance party.
Taught my 6 year old how to take out the upstairs trash. For the life of me, I can never remember it's up there.
Cleared out space in my pantry by giving, perfectly-useful-to-someone-else-but-not-to-me- anymore-things AWAY.
Cleaned up the front hallway for a bit more curb appeal.
Deleted a crapload of email.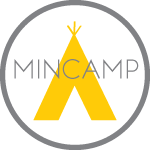 One week to go! You should sign on for the rest.
Or go ahead and get the book. We can read it together :-)